Into Me - Out Of Me
The editor and publisher of artcritical.com, David Cohen,
wrote a review
of the exhibit
Into Me - Out Of Me
, now showing at the PS1 Contemporary Art Center in New York City until September 2006. The exhibition displays works having to do with what goes into, or comes out of, the human body, including what may penetrate it. A postmodernist extravaganza of oozing bodily fluids, it is the type of show we point to as a perfect example of what has gone wrong with the art world.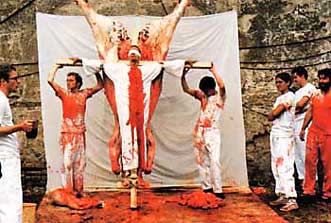 [ Action staged by Hermann Nitsch in 1984. The "art" of death, blood, and excrement. ]
Mr. Cohen notes that a wall text set the tone for
Into Me - Out Of Me
, by mentioning the early 1960s "
Viennese Actionists
" as the starting point for the type of art in the PS1 exhibit. The so-called "Actionists", Hermann Nitsch, Günter Brus, Otto Muehl, and Rudolph Schwarzkogler, would kill and dismember animals while lacerating themselves, hurling entrails and spraying blood at those foolish enough to watch such performances. The practitioners of violent and destructive public behavior masquerading as art, they are considered one of the forerunners of today's performance art. The plaque at the PS1 exhibit reads, "By cutting the body, dousing it with blood and excrement, and arranging it in compositions suggesting surgery, the Actionists treated these primal fears in the most unabashed manner."
[ "Fucked" Alex McQuilkin 2000 DVD 3 minutes. A close-up of the artist as "she heroically attempts to apply lipstick while, off camera, being entered from behind." It's rubbish of course but the title nicely describes the postmodernist art world. ]
David Cohen subjected himself to room after room of installations, photographs, videos, and various objects created by contemporary artists that portray self-mutilation, bodily injury, ejaculation, vomiting, excrement, bleeding - as well as putting things into and pulling them out of the vagina. Cohen laboriously covered all of that and more, before ending his disdainful review with the following remark:
"The thought I had, on leaving this exhausting, puerile display, is that a single painting by Francis Bacon would metaphorically fuse every sensation laid out so literally by the photographers, performers and video makers in this show, and penetrate the viewer where virtually nothing in this show does—the solar plexus. But metaphor, depictive relish and the catharsis of painting are obviously too transgressive for some."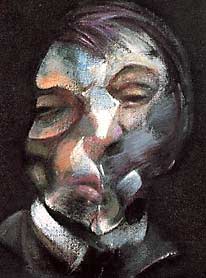 [ Self-Portrait by Francis Bacon, 1971, Oil on canvas. ]
Though we haven't seen the show, we are in accord with Cohen's estimation that sometimes a solitary painting, well crafted and thought out, is worth more than all of the tripe and twaddle generated by a thousand post-modernist artists.