Stuckistas: "South American Art Bandits"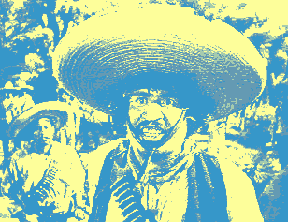 [ LA Stuckistas - "We don't need no stinkin badges!" ]
A critic of the LA Stuckist Group living in Los Angeles wrote an e-mail to us in which he expressed disapproval, not only of our opinions, but for our playful use of the Spanish name, "Stuckistas." Our detractor nagged, "Stuckistas, what are you, South American art bandits?" It is interesting that our nemesis assumed our membership to be lily white.
Our use of the name "Stuckistas" is a way of acknowleding the Spanish speaking founders of Los Angeles and the multi-cultural vision of our grand city. The written history of Los Angeles county began in September, 1771, when Father Junipero Serra and a group of Spaniards founded the San Gabriel Mission in an area populated by the first inhabitants, the Gabrielino Indians. On September 4th, 1781, Spanish speaking settlers founded the community that would become the City of Los Angeles, naming it El Pueblo de Nuestra Senora la Reina de Los Angeles. Spain ruled California until Mexico assumed jurisdiction in 1822. Finally, the U.S. took control of the territory in 1848 as a result of its war with Mexico - but the original culture of California was never eradicated.
According to the U.S. Census Bureau, some 4.6 million Latinos are living legally in Los Angeles county, the largest percentage of Latinos in any county in the U.S. Latinos comprise around 49% of the population of California, with some 12.5 million Latinos calling the Golden State their home.
The LA Stuckist Group is open to artists of all races and ethnicities who live and work in Los Angeles. We have no tolerance for an art scene that practices racist or exclusionary policies, and we celebrate the diversity of the people who live and work in LA. In fact, it is the multi-cultural nature of LA's artists that will bring added strength, purpose and imagination to the Remodernist movement. So while we may not be South American Art Bandits, we are Stuckistas, and "We don't need no stinkin badges" to press forward with our offensive!