The Turner Prize a big YAWN
On December 4th, 2006, the annual high-profile Turner Prize was awarded at ceremonies held at London's Tate Britain. Yoko Ono was on hand to announce the winner, abstract painter Tomma Abts, who also walked away with the Turner cash prize of $79,122. Abts, 38, is a German-born artist now living in London, and the first female painter to win the Tate prize. The Tate has in the past ignored painters in favor of those artists who create installation, video, and conceptualist works. But Abts' pictures in no way challenge the bastion of postmodernism and its antipathy towards painting - her minimalist abstracts are a safe bet for an art world elite that doesn't want to rock the boat.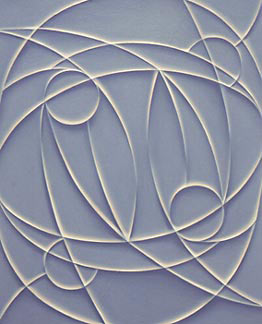 [ Ehme - Tomma Abts. 2002 acrylic & oil on canvas. Abts paintings are titled by picking place names from maps of her native country, Germany. ]
A spokesperson for the Tate said the judges "admired the rigour and consistency of Abts' painting, in which compelling images reveal their complexity slowly over time." That someone could see something "compelling" in Abts' squiggles is bad enough, but proclaiming her to be one of the world's most dynamic artists is truly mystifying. The Tate maintains that Abts' "intimate and compelling canvases", deserve Britain's highest arts award became they 'build on and enrich the language of abstract painting". But as we see things, Abts' paintings have all the intensity and passion of cartography, in fact, she titles her pictures by picking place names from maps of her native Germany.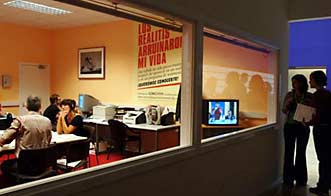 [ Office - Phil Collins installation. Photo by Linda Nylind. ]
As dismal a choice Abts might be for the world's most significant artist of the year, the runner-ups for the 2006 Turner prize were even more dreary with all of their faux outrageousness. Rebecca Warren's sculptures looked as though they were slapped together artlessly by grade school children just learning to play with clay. Conceptual artist and film-maker, Phil Collins, recreated a self-enclosed working business office environ replete with all the details of corporate life. But for what purpose? There was no inherent critique, statement or observation in this insipid installation. According to the Tate, Mark Titchner's installations combining tables and computer monitors with large photo reproductions of obtuse slogans snatched from advertising and propaganda sources, are meant to pose questions about our blind "obedience to authority." But who will stand up to the illegitimate authority and tyranny of the so-called postmodernist art establishment? Certainly no one who enters works in the Turner Prize competition.
The BBC news asked chief art critic Rachel Campbell-Johnston of England's, The Times, for her opinion regarding the Tate awards, and she quipped, "One thing they could do is occasionally cancel, occasionally say - 'There was nothing up to standard, and let's scratch it', that would really get people to discuss the state of contemporary art." She's not the only voice to express disquiet over the state of today's art. As might be expected, our Stuckist comrades in London held a protest out in front of the Tate Britain during the awards, but this time people are paying attention like never before. The U.K. Guardian wrote, "Formerly dismissed as cranks, the Stuckists this year precipitated a Charity Commission report into conflict of interest on the Tate board of trustees." That controversy had to do with the Tate purchasing an installation by Chris Ofili for £600,000 (around $1,185,000) while Ofili sat on the board - all while he was asking other artists to donate their works to the Tate collection for free so that the museum could save money. At this year's Tate protest our colleagues demanded the resignation of Tate director, Sir Nicholas Serota, as well as the Tate's chairman, Paul Myners. Stuckist co-founder, Charles Thomson, said "Serota has been at the Tate longer than Margaret Thatcher was Prime Minister and it's time for a new face."
Stuckist demonstrators out in front of the Tate carried signs that read, "Is It All A Fix?", a reference to a statement made by Lynn Barber, a writer for the U.K. Observer and a Turner prize juror for 2006. Back in October of this year Barber broke the traditional vow of silence expected of jurors to write How I suffered for art's sake, an article for the Observer in which she stated bewilderment at judging procedures, and declared her enthusiasm for postmodern contemporary art "seriously dampened" after her experience as a Turner prize judge. She stated that she felt "demoralized, disillusioned, and full of dark fears that I have been stitched up - that actually the 'art world' - whatever that is - has already decided who will win the 2006 Turner Prize and that I am brought in purely as a figleaf". What makes Barber's article so striking is that she describes herself as someone "generally enthusiastic about contemporary art", in other words - she's no Stuckist.
Announcing Tomma Abts as the winner at the Tate award ceremony, special guest Yoko Ono said: "In 1966 I was in New York and received an invitation to come to Britain. It opened the gates to a new world and changed my life. In those days New York was the center of the art world - now it is London." Declaring yet another "center" for the art world has become such a tiresome and annoying con, one wonders just how any thoughtful person could engage in spreading such tripe - but then, we are talking about the Tate awards. It is especially revealing that it's the postmodernist crowd, or at least one faction of it, that's proclaiming London as the new "center of the art world". With all of the postmodernist dribble about there being no more hierarchies and that we all live in a decentralized pluralistic, globalized paradise of interconnectivity - you'd think Ono's remark would be cause for great embarrassment, but apparently the elites over at the Tate are too drunk with power to notice how ridiculous they've become.
As a group of artists writing from the city of Los Angeles, we yawn in the faces of those who proclaim London the "end all, be all" of the art world. However, while we are proud of what L.A. and California artists have accomplished over the years, and we extol the contributions these artists have made to the history of art, we are not foolish enough to proclaim our city as the center of anything (except perhaps, boredom). We do however see ourselves as one sphere of influence. To be honest, since L.A. is such a multi-cultural city, and quite frankly, a cultural capital that has exerted far too much influence over the world, we'd like to proclaim the Mexican City of Tijuana as the new "center of the art world". Henceforth, we think that all trends in contemporary art should be set by those artists residing in Tijuana, and that international artists should trek to the city along the U.S./Mexico border in order to find inspiration, make connections (and of course sales), and study and work with some of the finest artists in the world. If you think our idea preposterous then you might want to challenge your Eurocentric world view.
[ UPDATE: The U.K. Guardian reports that Turner prize winner Tomma Abts was criticized by Germany's leading art critic for creating paintings that look like east German "wallpaper". In a December 7, 2006 review published by the respected Frankfurter Allgemeine Zeitung, Niklas Maak said Abts "Is a very good designer. It's lovely wallpaper. But it isn't really art." He went on to say that her pictures looked "like pattern samples from an old German Democratic Republic wallpaper factory".